Product Item
Full automatic die casting machines for producing Aluminum castings(LH-180T)
Die casting machine, to some extent, due to the advantages of size accuracy and surface smoothness of products, generally no mechanical processing but direct use or small amount of processing, so it not only improves the utilization rate of metal, but also reduces a lot of processing equipment and working hours. Easy casting price; Combination die casting can be used for other metallic or nonmetallic materials. It saves assembly time and metal.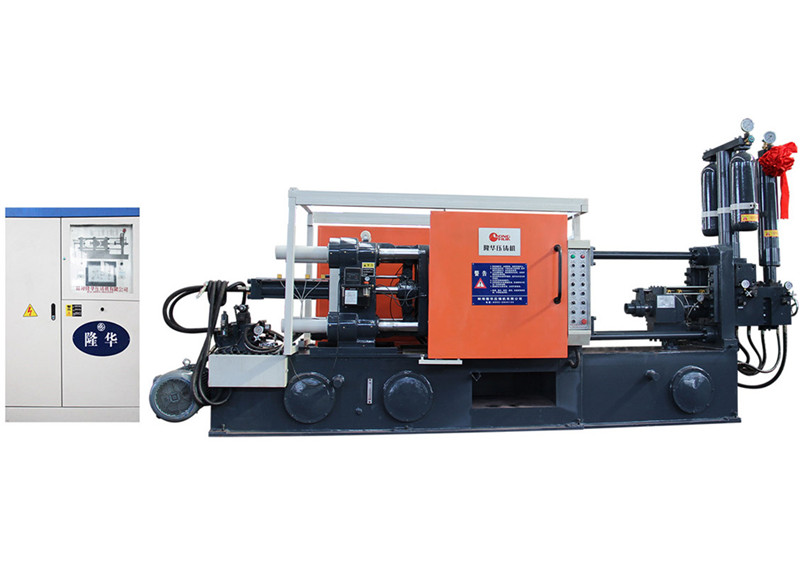 LH SERIES OF STANDARD PARAMETER TABLE (LH-180T)
ITEMS

UNIT

SPECIFICATION

HYDRAULIC WORKING PRESSURE

MPA

14

CLAMPING FORCE

KN

1800

SPACE BETWEEN TIE BARS

MM

480*450

TIE BAR DIAMETER

MM

¢85

DIE OPENING STROKE

MM

380

INJECTION FORCE(INTENSIFY)

KN

270

PLUNGER LAUNCH DISTANCE

MM

130

INJECTION POSITION

MM

0 -- 140

PLUNGER DIAMETER

MM

¢50----¢70

INJECTION STROKE

MM

350

CASTING PRESSURE (INTENSIFY)

MPA

112/78/57

CASTING FIANGE PROTRUSION

MM

10

CASTING FIANGE DIAMETER

MM

110

MAX CASTING AREA UNDER 40MPA

CM

2

450

LNJECTION WEIGHT(AL)

KG

2.4

DIE HEIGHT(MIN--MAX)

MM

200~550

EJECTOR FORCE

KN

110

EJECTOR STROKE

MM

80

MOTOR CAPACITY

KW

15

MACHINE DIMENSIONS (L*W*H)

M

5.22*1.4*2.35

REFERENTIAL MACHINE WEIGHT FOR UPLIFTING

T

6.7

OIL TANK CAPACITY

L

600

PS:WE RESERVE THE RIGHT TO MAKE ANY TECHNICAL IMPROVEMENT WITHOUT FURTHER NOTICE
The working procedure of cold chamber die casting machine
1. Close the mold.
2. Pour the metal liquid into the pressure chamber manually or otherwise.
3. The upper punch moves down at a lower shooting speed, enters the press chamber and reaches the metal liquid level just in contact with it.
4. The upper punch changes to a higher injection speed to press down, while the lower punch moves down synchronously with the upper punch at a relative distance with liquid metal in the middle section.
5. When the current punch moves down to the exit nozzle orifice during operation, the bottom of the down pass will be supported, so that the upper and lower punch press the metal liquid together and spray it to the nozzle orifice (part of the direct runner) at a high speed.
6. The metal liquid enters the mold cavity from the inner gate through the straight runner composed of nozzle, gate cover, fixed mold cone hole and diverter.
7. After filling, the upper punch still maintains a certain pressure until the metal liquid in the mold cavity completely solidifies into die casting part 1;The sprue and the metal liquid in the press chamber are solidified into straight sprue and residual cake respectively.
8. Upper punch lifting and reset;At the same time, the lower punch moves upward to cut off the residual cake which is still connected with the straight gate.
9. Continue to raise the lower punch, lift the residual cake to the top of the pressure chamber, and remove it manually or by other means;
10. Lower punch is reset down to plug nozzle orifice.