On March 17, Li jun, the municipal government deputy secretary-general and director of Bengbu Center, Caokai,one engineer of the intelligent mechanical department of Chinese Academy of Sciences institute in Hefei, conduct research and communication in the factory of the bengbu longhua die casting machine co., LTD.. The communication focused on the progress of the "high-speed and high -precision die-casting machine system " (this project was signed with Chinese Academy of Sciences, hefei institute in the third China MEMS intelligent sensor industry development conference in 2019)
At the meeting, Zhou Wenping, Head of the enterprise, said that after the research and development of Cao's engineer team, the die casting molding rate has been improved from 70.1% to 100%, and the operation was also more simple and more humane. Longhua has nine authorized invention patents. At present, its die casting machines has been exported to Russia, India, Pakistan, Vietnam, Turkey, Azerbaijan, Bolivia, Morocco and other countries, and it has won the unanimous praise of customers at home and abroad,. The sales volume of the products has also reached more than ten millions. Cao said that the second phase of the project began before Spring Festival , and the progress of the project is ahead of schedule. The two sides are now in negotiations on a new project "to replace the traditional Connecting rod manipulator with a robot.". Li stressed that Bengbu Center would fully support the upgrading and transformation of traditional manufacturing industry, what's more, encourage enterprises to cooperate with the Institute for scientific and technological innovation canter, to focus on the development opportunities and set up a long-term vision. While tracking and supervising the progress of the approved projects, the Center should also actively connect with new projects to help enterprises grow stronger and larger with the best quality services.
Review of the signing ceremony between Bengbu Longhua and Hefei Institute of Chinese Academy of Sciences
Production and research base site
Invention patents (two of which were developed in cooperation with Hefei Institute of Chinese Academy of Sciences)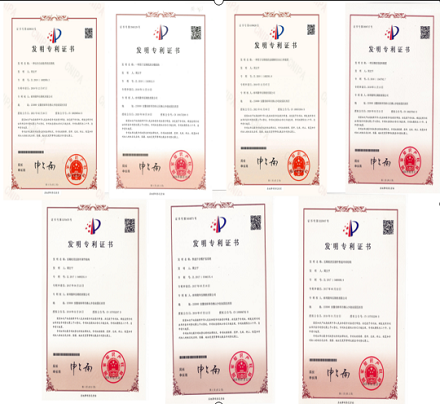 "The mighty pass is like iron, and now I have crossed it from the beginning."
"Let the world fall in love with Made in China"